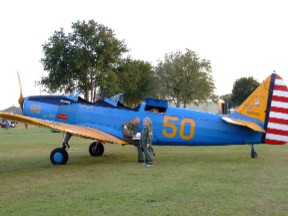 PT-19
- based at Dry Creek Airport
On Saturday, November 6th 2010, the Skinner Road Airport Community Association (SCARA) once more hosted its annual open house for the people in our community. This event gives our neighbors the opportunity to learn about aviation, the airport, and meet the people who fly and live here.

Drinks and hot dogs were provided, the weather was just about picture perfect! Once again quite a few people turned out. There were free airplane rides for children 8-17 (with parental signature) through the EAA Young Eagle Program plus many Static Displays with several warbirds to see, including some different ones.

An all-time record of Young Eagle flights was set for us this year (96 flew)! Many kudos need to go to our wonderful staff who streamlined the sign-up and aircraft/pilot assignments. It was a huge job handling 96 excited youngesters!

The stuffed animal drop once more proved popular for the younger children not eligible for airplane rides.

We also need to thank the Cy-Fair VFD this year for bringing the fire truck for display. The firefighter in full gear also proved to be a popular photo-op with the kids!