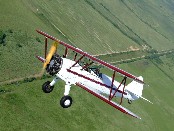 '55 Stearman in flight
- based at Dry Creek Airport

click here for the flyer from
the open house
On Saturday, November 4th, the Skinner Road Airport Community Association (SRACA) once more hosted its annual open house for the people in our community.
This event gives our neighbors the opportunity to learn about aviation, the airport, and meet the people who fly and live here.

Drinks and hot dogs were provided, the weather was just about perfect and again we had record breaking crowds. Seemed like everyone turned out! There were free airplane rides for children 8-17 (with parental signature) through the EAA Young Eagle Program plus many Static Displays with several warbirds to see.
Another record of Young Eagle flights was set for us (63 flew)! The stuffed animal drop once more proved popular for the younger children not eligible for airplane rides.